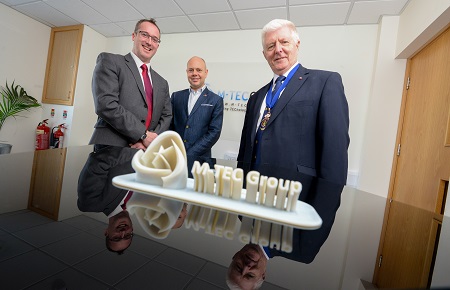 19/12/2014 – Coventry automotive engineering company creating career paths
The continued expansion of a Coventry automotive engineering and design firm is creating new and exciting development pathways for young people to enter the industry.
M-Tec Group, based at Siskin Drive in the city, utilises state-of-the-art software to design and develop automotive interiors and exteriors, and since being established in 2011, has developed a standalone turnover of approximately £7million per year.
The business now boasts 75 staff and has ambitions to double its turnover by the end of 2016.
Along-side traditional recruitment strategies, supported by its associated recruitment business in Birmingham, M-Tec Group has employed three additional joined-up approaches for the development of new staff at the Coventry office.
And the company welcomed Coventry and Warwickshire Chamber of Commerce president Peter Burns to its headquarters to show how it is contributing the local economy.
Ashley Crump, commercial and business development director at M-Tec, said: "As a stand-alone business we have secured consistent growth and expansion over the past three years, supported by adopting traditional recruitment methods and by also developing young people from within the business.
"With regard to the development of young people, we have adopted three strategies, offering school work placement schemes, a graduate development programme and the sponsorship of students from Black Country University Technical College (UTC).
"The relationship with the UTC came about through a personal relationship when we were introduced to a UTC student who we felt had a flair for engineering and design. We sponsored him through his university studies and, after four years, he is now an integral part of our team and working on a project for one of our most high-profile automotive clients.
"We have maintained a dialogue with the UTC, and continued to identify a number of high potential students, and our intention is employ two or three of their best students each year. We have found that developing students via the UTC route, and providing on the job training along-side their university studies, can in many ways better prepare the individuals for the industry when compared to graduates direct from university.
"In addition to the development of UTC students, we also employ graduates direct from university and install them on a 12-month development programme working alongside our established project teams, which is also working very well in terms of providing an intensive learning environment.
"Our work placements with school students are more geared towards offering the students an opportunity to experience the working environment within our sector so they can make an informed decision as to whether they would like to pursue a career within an engineering or design related environment.
"We have enjoyed great results from these approaches and feel there is great potential for them to work on a wider scale, and we are looking forward to working with the Chamber to further this aim."
Peter Burns, president of the Coventry and Warwickshire Chamber of Commerce, welcomed the opportunity to visit the forward-thinking company.
He said: "It was great to visit M-Tec and find out all about the way they have taken it upon themselves to find their own solution to the skills gap that everybody talks about.
"They have gone above and beyond their own responsibility to developing more skilled workers for the industry in the region, and we feel it is something that could yet become an even bigger success story."
 [Original Article here]