Below is a pictorial representation of how we at M-TEC work closely with our Customers Team to ensure 'Our' Concepts meet the expectations of the FULL Team.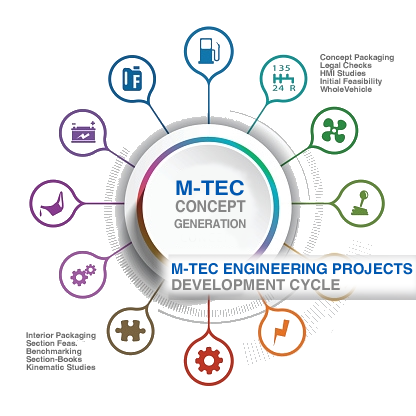 Here at M-TEC we pride ourselves in Developing Design concepts and ideas with a high level of feasibility in order to validate a concept into a workable DFA solution. The M-TEC Team works closely with the customer in order to ascertain the requirements, boundaries and aspirations. These Hard points are then taken to the next level of development with a high confidence of feasibility from both and engineering and manufacturing perspective.
Our Concept Engineering and Design Teams work closely with the recognised industry standards (i.e. GCIE & SAE) as well as the customers own Design/Styling Teams in order to develop, tune and mature designs to a production ready concept.
This process is done by developing the Design/Concepts in conjunction with Section-Books and Gap & Rad plans in order to give data driven solutions to problems along with engineering solutions in areas of compromise.

This approach not only ensures the Engineering Team works extremely closely to the Design brief BUT also ensures that any changes required are done in order to challenge the engineering team.