Here at M-TEC we have a Specialist Team developing a wide range of 'Bespoke' Mechanisms and concepts in order to further enhance our ability to support our customers. The team utilises the very latest Rendering and Kinematic software in order to present a realistic representations of our mechanism concepts.
Below are some examples of the mechanisms developed by the M-TEC team. If this service is of particular interest to you, please do not hesitate to contact us, where we will be only to happy to discuss your requirements.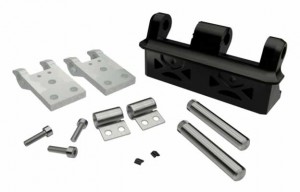 DAMPED HINGE SYSTEM :: Developed for use in a Niche OEM Console System, giving a unique feel, function and performance tuned to the customers requirements. Keeping the design simple meant minimal tuning loops were required in order to develop the required feel.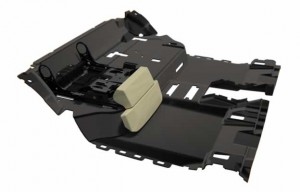 POWERED CALF REST SYSTEM :: This Electrically operated Seat Integrated 'Calf Rest' System was developed to add an additional element of comfort and luxury to a Niche OEM vehicle system. The team developed a simple yet effective system that was both cost effective and easily manufactured.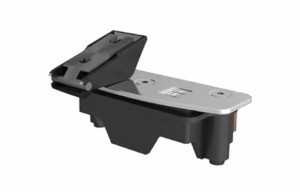 SELF PRESENTING LOCKABLE LATCH MECHANISM :: This Simple Electro-Mechanical Latch concept enables the user at the flick of a switch, to release the mechanism and present the intended Armrest/'A' Surface to be presented to a defined height. It also doubles as a 'Lock' for stowage purposes in order to meet legislative requirements.
POWERED CHAMPAGNE FLUTE STOWAGE CONCEPT :: The M-TEC Mechanism Team developed another Bespoke mechanism for an OEM, in the guise of a electric Champagne Flute Stowage/Dispensing system. Developed to meet specific appearance and deployment characteristics. This project gives a good insight of the various services the M-TEC Team can offer from Basic injection moulding design through to integrated complex electro-mechanical mechanisms.
REAR POWERED CONSOLE TABLE MECHANISM :: Developed to meet a wide range of Ergonomic, Styling & Manufacturing requirements, the M-TEC Engineering & Design Team developed a numerous concepts for this Table Mechanism. The final result, a Robustly designed product meeting ALL the required customer deliverables, as well as Cost & Manufacturing requirements imposed on the M-TEC Team.
REAR SEAT ENTERTAINMENT TABLE MECHANISM :: M-TEC were asked to develop a 'Seat Back' mounting system for integrating an Apple iPad into the rear of an OEM front Seat. The team developed a robust solution which met with the customers requirements and subsequently supplied the necessary data suitable for prototype manufacture.
NAV SCREEN/HMI MECHANISM :: M-TEC's Engineering & Design team were tasked with improving an existing concept with minimal change to standard components. The team went through a process of developing a number of concepts which were presented in conjunction with visual kinematic models to give a 'Real-time' view of the function and movements.
Please feel free to browse our 'Portfolio' page for exerts of other projects we at M-TEC have worked on/delivered to date.