As an ISO9001:2008 accredited company M-TEC Engineering Projects offers a wide range of Programme, Engineering & Design services to our customer base. Developing components and systems from concept through to product realisation. Whether your industry is Automotive, Engineering, Medical or Rail, M-TEC have the team and experience to assist you develop cost effective and robust solutions to market with minimal effort.
At M-TEC Engineering Projects we specialise in taking developing YOUR Ideas and Concepts and turning them into a Reality. Using Industry standard 3D CAD softwares such as CATIA® and Unigraphics (NX)® we service a wide range of Automotive OEM's and TIER One suppliers. Our Engineering Team develop products using contemporary techniques such as DFMEA, FMA and DVA in order to analyse and validate our Products and Designs. Our Goal in delivery is to exceed our customers expectations at every opportunity.
Our current portfolio sees M-TEC developing Interior & Exterior products for OEM's such as Aston Martin, Bentley, Jaguar and Land Rover Cars. In addition M-TEC support numerous Automotive 'TIER Ones' ; Dr.Schneider, Inalfa, Lear, GSM, ATD, Paintbox to name but a few.
With over 20 years experience in the Automotive, Rail and General Engineering Industries and with backgrounds in Engineering, Design and Project Management, M-TEC Engineering Projects fully understand the needs of our Customers, always focusing on Quality, Cost and Timing. Here at M-TEC Engineering Projects we strive to forge lasting relationships with the companies we work with.
Our company philosophy of 'Working WITH the Customer NOT for the Customer' has and will continue to serve us and our Customers well. We aim to build long-term relationships by delighting our Customers with technical flair and innovation whilst maintaining a professional and confidential approach to the way our business operates. Below is a relationship diagram which aims to pictorially demonstrate how we work with our customers.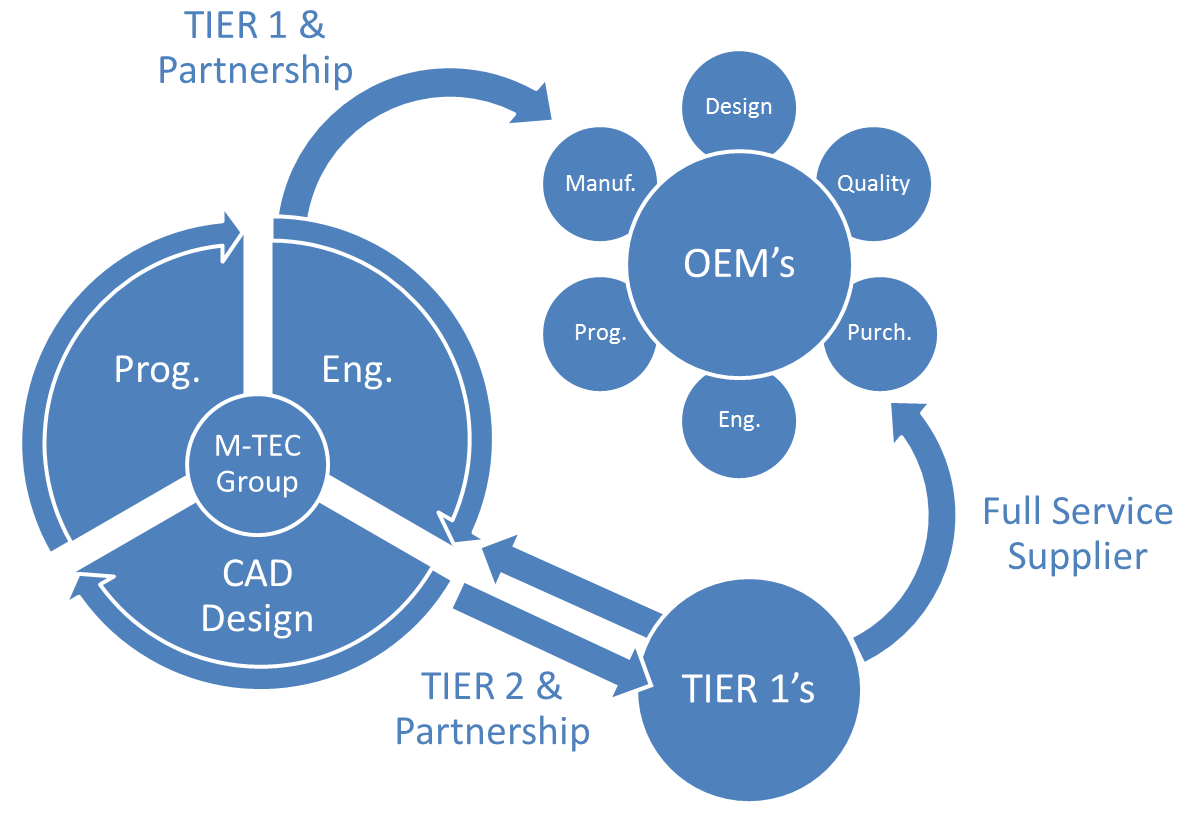 The experience within the M-TEC Engineering Projects Team coupled to a keen pro-active approach to all projects, has helped foster a desire to push the boundaries of Engineering, Design and Project Management to greater levels.
Below is a video giving a 'Brief' introduction to M-TEC Engineering Projects, which can be found on our YouTube page…