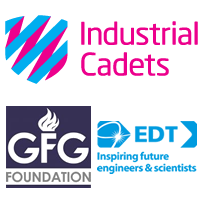 We are extremley proud to announce for a second year running M-TEC Engineering Projects win the SME Employer of the year at this years HRH Industrial Cadets awards.
The Industrial Cadets Awards aim to showcase and present excellence awards to selected individuals, schools, colleges and employers, whilst also celebrating achievements made by young people who have given something back as a result of taking part in the Industrial Cadets programme.
INDUSTRIAL CADETS AWARDS CATEGORIES & NOMINATION FORMS 2019 (Link here)
Winner for SME Employer of the Year: The premier award for SME employers who have demonstrated outstanding engagement with young people and the Industrial Cadets initiative. Illustrating best practice in employer engagement on the work experience STEM agenda, recognising the quality of experience, depth of learning and corporate commitment to the overarching agenda. The nominations were judged by the following panel here.
Shortlisted for changemaker of the Year [Frank Lording] : Is an award designed to recognise individuals that have embraced the Industrial Cadets programme over and above their expected day job. They have nurtured and grown the scheme within the business and demonstrate a passion for the development and education of you people utilising the skills and knowledge of STEM. Read the full article here.