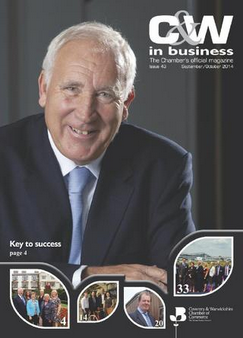 M-TEC Group feature in the Coventry & Warwickshire in business Magazine. We are proud to have our first article published in Issue.43 of the magazine detailing the rise of M-TEC Group along with our future plans.
M-TEC Group | Merging Technology with innovation
M-TEC Engineering Solutions is an established business with over twenty years' experience providing specialist consultative Recruitment solutions to the Automotive, Aerospace, Rail & General Engineering markets. In 2010, the Birmingham based business began to develop its portfolio of services further, not only providing the human resource to manage projects, but taking on the project responsibility in its entirety.
In 2011, M-TEC took the decision to develop this aspect of the business further & formed M-TEC Group, opening a dedicated Engineering & Design facility based in Coventry in the UK automotive heartland. The business invested substantially in the Coventry facility to the point where as standalone business it now boasts a team of 70 staff comprising of Programme managers, Engineers, CAD Designers & Engineering support Staff. The supporting business functions are managed by the Birmingham head office enabling the Coventry facility to focus 100% on the delivery of programmes & engineering excellence.
Three years on and M-TEC Group is now an ISO90001 accredited tier 1 supplier to Jaguar Landrover, Aston Martin, Bentley, and other low volume high end vehicle manufacturers. Supporting not only the Original Equipment Manufacturers but also the supply base in both UK & Europe.
Originally specialising in the development of product ideas from concept through to realisation for automotive interiors & exteriors, the company has since diversified into Rail & Medical sector with plans to move into the Aerospace sector.
Utilising 3D CAD CATIA® and NX® software packages, M-TEC Group have developed a reputation for successfully developing concepts and engineering products from surface data. The company also has the capability to develop show vehicles, demonstration vehicles and create rapid prototypes from their workshop equipped with 3D printer facilities.
Stephen Hanson, Engineering and Programme Director, explains, "Typically we develop Robust Manufacturable Designs from Client surfaces, utilising world class practices & working closely with the supplier base. In most cases we will manage a full programme on behalf of our clients, although we are flexible enough to provide CAD services or Engineering support as and when the needs of the client dictate. We pride ourselves in offering a world class service driving improvement forward with a world class team. We have also instigated an apprenticeship programme and a Graduate Programme to develop the next generation of engineers from within"
 Since being established in 2011, the M-TEC Group Engineering & Design Centre has developed a standalone turnover of approximately £5M per year 2011, and when combined with M-TEC Engineering Solutions boasts a combined turnover of approximately £15M per year. The expectation is that the Engineering business will continue to expand and plans are being made to double turnover within the next three years.
Stephen Hanson explains, "At the heart of all of our expansion plans are our people. We are committed to continuing to grow a world class team through recruitment & developing talent from within. We have never jeopardised the quality of our services as we have grown as a business, and it is critical that we maintain our high standards as we continue to expand in the future."